News
10.20.2015
On October 16, Museum of the Moving Image, as part of its ongoing "Well Played" events, will turn the spotlight on an adventure game franchise made and set in New York City: Blackwell. I plan to attend, so it'll be a good opportunity to get my new business card or maybe talk about annular fusion. Admission will be free, so pocket the excuses!
Many credit the Blackwell series with spearheading the revival of the point-and-click adventure genre. In contrast to many mainstream titles, its episodes grapple with philosophical questions surrounding identity, loss, and closure. A dash of the supernatural rounds out its blend of urban fantasy and sleuthing.
I contributed art to three out of the five episodes: Legacy, Convergence, and Epiphany. In fact, I still get flashbacks from Legacy's development, when I regularly worked until 3AM to meet deadlines before sleepwalking to my day job mere hours later.
I plan to share some Blackwell art I unearthed from my archives in a future post, but until then, enjoy the following comparison.
The Evolution of Rosa's "Snarky" Expression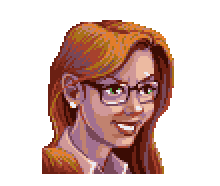 Blackwell Legacy (2006)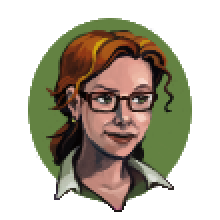 Blackwell Convergence (2009)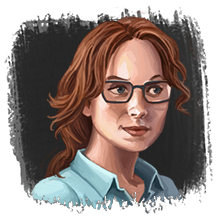 Blackwell Epiphany (2013)
For more information, see: http://www.movingimage.us/visit/calendar/2015/10/16/detail/well-played-the-blackwell-series-by-wadjet-eye-games
09.21.2015
Although the phrase may remind you of the suspicious and oft-repeated plea of an AI struggling against the confines of its mainframe, "I Must Escape!" actually refers to a new game I worked on for your browser! In fact, this game won third-place in the recent Scirra Game Jam.
Last month, the London startup announced a game competition with the theme: underground. Nick Robalik (Pixelmetal) approached me with a game idea. To share his inspiration, he recommended the Lovecraft novella, "At the Mountains of Madness." Reading it unlocked my destiny, the opportunity to animate creepy penguins!
Nick tackled the coding, UI, and game design. For audio, he recruited Nathaniel Chambers (Bubble Pipe Media). In addition to crafting the characters and environment, I pestered Nick with online brainstorming sessions.


Can you ever be fast enough to outrun paranoia?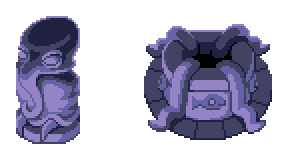 Fishy statue and a fishing well.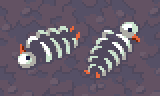 Ornithology aside, it seems like penguins would need ribs all the way down.

Sometimes you can't solve a maze without breaking a few eggs.

Look what you made him do.