News
01.29.2016
What better way to start 2016 than with a good old-fashioned gaming competition? How about one that features some of my animation? With the latest update from Run or Die, you can now play with two additional protagonists!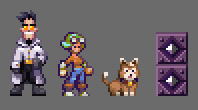 Notice how the three characters are all different sizes? To avoid making new levels for each one, Team Flo stipulated that the new sprites must fit within the existing heroine's collision. These constraints made animating a challenge, but I'm proud of the resulting solution.

The Doc hunches to fit through the two-block-tall gaps in the walls.

The catdog carries volatile chemicals, so low ceilings are equally hazardous to its journey.
Yes, the game features a cat-dog hybrid! Break those piggy banks and head to Run or Die's Steam page.
12.08.2015
Don't miss the double header on December 10th, an opportunity to play two of my games! First, swing by the arcade at the NYU Game Center in Brooklyn to try the massively local multiplayer title, Pixel Prison Blues!

Feel free to choreography your own victory dance.
We expect over 700 attendees, so after a few hours of navigating the crowd, you'll probably need a drink. Join me at Solas Bar in the East Village, where you can sate your thirst and check out my secret project.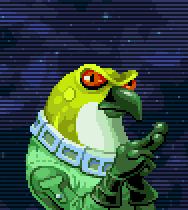 The Frogbird strongly recommends you buy me a drink.