News
09.21.2015
Although the phrase may remind you of the suspicious and oft-repeated plea of an AI struggling against the confines of its mainframe, "I Must Escape!" actually refers to a new game I worked on for your browser! In fact, this game won third-place in the recent Scirra Game Jam.
Last month, the London startup announced a game competition with the theme: underground. Nick Robalik (Pixelmetal) approached me with a game idea. To share his inspiration, he recommended the Lovecraft novella, "At the Mountains of Madness." Reading it unlocked my destiny, the opportunity to animate creepy penguins!
Nick tackled the coding, UI, and game design. For audio, he recruited Nathaniel Chambers (Bubble Pipe Media). In addition to crafting the characters and environment, I pestered Nick with online brainstorming sessions.


Can you ever be fast enough to outrun paranoia?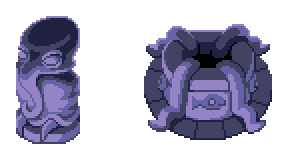 Fishy statue and a fishing well.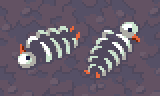 Ornithology aside, it seems like penguins would need ribs all the way down.

Sometimes you can't solve a maze without breaking a few eggs.

Look what you made him do.
09.12.2015
The new layout is finally complete! It was long overdue, but let's bask in its clean lines and playful presentation instead of complaining. My brother Greg provided vital help with this endeavor; without him, I'd still be tinkering with DNS settings. You might be wondering what you can do to show your appreciation. I would recommend visiting his site and buying some sound fonts. It can't hurt to stock up.
Looking back at some of my old content treated me to a larger-than-recommended dose of nostalgia. Some people know from an early age what they want to do as adults. Others, like me, were born with a 6B graphite pencil in their mouths and a gum eraser in one ear. I recall spending long hours populating sketchbooks with armored knights who invaded and defended their respective castles across reams of toothy Bristol. So much has changed since those days, but the creative spirit remains strong.
On the topic of content, watch this space in the coming weeks. Or better yet, follow my twitter to stay updated. For now, enjoy a taste of things to come.

Cold-blooded killer