News
01.29.2016
What better way to start 2016 than with a good old-fashioned gaming competition? How about one that features some of my animation? With the latest update from Run or Die, you can now play with two additional protagonists!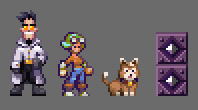 Notice how the three characters are all different sizes? To avoid making new levels for each one, Team Flo stipulated that the new sprites must fit within the existing heroine's collision. These constraints made animating a challenge, but I'm proud of the resulting solution.

The Doc hunches to fit through the two-block-tall gaps in the walls.

The catdog carries volatile chemicals, so low ceilings are equally hazardous to its journey.
Yes, the game features a cat-dog hybrid! Break those piggy banks and head to Run or Die's Steam page.
12.22.2015
There's nothing like a little fan art to wrap up the year. I present two Killer Queen sprites, drawn in a style intended to evoke Capcom's arcade beat 'em ups.